Completing this class prepares the student to practice Reiki on the Master level and qualifies him/her to teach Reiki.
In my view, one who is deeply committed never truly "masters" Reiki. This class is simply another step in a lifelong journey of personal healing and transformation, deepening compassion for self and others, honing the craft of Reiki through hands-on practice, and striving to embrace its principles in daily living.
I always get so much more than I ever imagined when attending training sessions with you. Deb Irby, Lynnwood, WA

Marianne, you really do change lives. Mega blessings to you. Teri LeClair, Shoreline, WA
Next scheduled ART/Master Class: Friday – Sunday, April 6, 7 & 8, 2018.
Location: Lynnwood, WA
Time: 9:00 a.m. – 6:00 p.m. each day
Prerequisite: at least 6 months as a Level II practitioner or permission of the instructor. Note: If you have not had Levels I and II with me, contact me before registering for this class.
Fee: $825 Deposit: $325
Register

Review fee for previous students: $275 for three days; $195 for two days, and $105 for one day. Review is on a space available basis. Contact me for permission to review.

24 hours CEU credits available for nurses, massage therapists, and reflexologists in the state of Washington.
Upon completion of this class, the student will:
Have received two Master attunements

Have gained the use of three Master symbols
Know powerful advanced techniques that increase the effectiveness of Reiki treatments
Have the use of advanced meditations for specific purposes
Have experienced what most students describe as transformative healing
The Master Level Intensive (Friday – Sunday) includes:
24 contact hours of instruction. CE credits available for qualified WA state practitioners (massage therapists, nurses, reflexologists).
The Advanced Reiki Training attunement and the Master attunement, which increase the power of Reiki and raise the level of your vibration.
The Usui Master symbol, which increases the effectiveness of the Reiki II symbols.
Two additional symbols.
Two powerful techniques that quickly bring about the release of stuck energy associated with past trauma, emotional distress, disease, chronic conditions, and/or physical pain.
Instruction for giving Reiki attunements.
Reiki meditations for strengthening the mind, expanding consciousness, assisting in remaining focused and for accomplishing goals.
Instruction for sending distant Reiki in a manner that allows it to flow continuously for an extended period of time.
Ample practice time for learning techniques and all attunements.
160-page Master manual plus a supplement with easy-to-follow steps for meditations, techniques, and attunements.
Certificate affirming that you are a Reiki Master, qualified to teach Reiki.
Continuing mentoring and support from the instructor for your Reiki journey, wherever it leads you.
Fee: $825 Deposit: $325
Contact me for additional information.
I am a member of The International Association of Reiki Professionals (IARP), and I adhere to its Code of Ethics and Standards of Practice.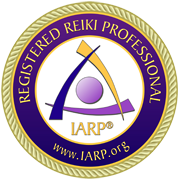 Schedule a Session