Take your own healing and your practice of Reiki to the next level with Karuna® Reiki.
The Sanskrit word "Karuna" translates as "compassionate action." Karuna Reiki® offers an opportunity to deepen your capacity for compassion and facilitate greater healing for yourself and others.
 I have been so full of energy and happiness since taking the Karuna Reiki® Master class. I feel like I've returned to my true self, full of possibilities and joy, and an awareness of the magic of life. Thank you so much, Marianne for sharing this gift with us.

 Cheri Leavitt, Shoreline, WA

Marianne is knowledgeable, thorough, and fun. The class was amazing, insightful, and transforming.

Mary Van de Ven, LMT, De Moines, WA
Next scheduled class: Spring of 2018
Take all three levels, or Levels I & II only.
Prerequisite: at least six months as a Reiki Master or permission from the instructor.
Location: Lynnwood, WA
Fee for all three levels: $675
Fee for Levels I & II only: $475
Deposit: $275, due October 18. Remaining fees due before start of class.
Register

Benefits of Karuna Reiki® include:
The attunements raise your vibration.
You'll be introduced to twelve energies and learn how to access and work with them for specific healing purposes.
You'll learn how to use sound to increase the effectiveness of the healing process.
A powerful meditation leads you on a journey for healing the shadow self—that self within each of us that works as saboteur and would separate us from our higher self and our greater good.
You'll have an opportunity to connect with additional guides to assist you on your Reiki journey and enhance the effectiveness of Reiki treatments.
Completing all three levels qualifies you to teach Karuna Reiki®.
Already a Karuna Reiki® Master/Practitioner?
Review the class:
The first time I took the Karuna Reiki® class (all three levels), I experienced a profound healing. The second time I took the class, it became a remarkable exploration into the process of healing. I experienced deep and broad physical, emotional, and spiritual shifts.

Joan Liberty, Watervliet, NY
If you have had this class with me previously, you may review any one day, or all three days and receive the attunements given on a space available basis. (Fees do not include manual.)
Review all three days: $275
Review two days; $190
Review any one day you choose: $95
No deposit is required for reviewing the class.
Contact me for availability.
Register

I am a member of The International Association of Reiki Professionals (IARP), and I adhere to their Code of Ethics and Standards of Practice.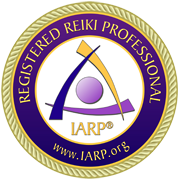 Schedule a Session

Karuna Reiki® is a registered trademark of The International Center for Reiki Training (ICRT).