Living beings (and all of creation) are programmed for self-healing. Reiki facilitates, supports, and enhances this natural healing process.
Marianne was able to process with me after the session in a very helpful way and I came away with some useful tools to use on my own. She is truly gifted and a very intuitive healer. Karen Johannsen, M.A., Certified Counselor and Reiki Master, Shoreline, WA
My first Reiki session was an experience I will never forget. I came to the session exhausted, unable to cope with anything, and left feeling relaxed, healed, and in some ways, reborn. Private Equity Investor, Seattle, WA
After a treatment with Marianne, not only are my muscles relaxed and pain free, but I feel more whole because my spirit is lighter and more carefree. Reiki releases the stress I feel on every level—body, mind, and spirit. After a treatment I feel as if my whole self runs smoothly and as it should. Karin Cross, Lynnwood, WA
Over the past fifteen years, I have had the privilege of giving hundreds of hands-on and distant Reiki sessions to clients experiencing a wide variety of health-related conditions, including:
a desire to maintain and support good health
physical challenges
emotional/mental challenges
trauma
grief
addictions
insomnia
stress
muscle tension
cancer
Parkinson's and other chronic conditions
dementia
anxiety
panic
depression
diabetes
high blood pressure
chronic pain
pregnancy and childbirth
Reiki is not a substitute for traditional medical or psychological treatment. Rather, the deep relaxation it brings about:
enhances and supports other modes of treatment
mitigates the side effects of chemotherapy and radiation
reduces bruising and swelling and the need for pain medication after injury or surgery
promotes a sense of peace and well-being
makes it easier for the body to heal itself, whatever the condition
Reiki is accomplished through gentle touch or with the practitioner's hands slightly above the body of the recipient. The recipient remains fully clothed. A warm and soothing energy flows from the hands of the practitioner into the recipient, releasing tension, creating deep relaxation, and facilitating healing. The energy used is not the practitioner's, but the universal life force that flows through all of life. I consider this force to be Divine Love. The healing that takes place is between Divine Love (the Higher Power, God, Spirit, Universal Energy) and the recipient. I am simply the conduit connecting the two in a more powerful way than the recipient is typically able to do for him/herself.
Allow 2 hours for a hands-on session. No special preparation is needed prior to a Reiki treatment. Simply come dressed comfortably. If possible, it is best to allow down time after a session.
My fee is $120 per session. Discount Packages are available for multiple sessions. I accept major credit cards, check, and cash.
Lynnwood, WA Office Hours:
10:00 a.m. — 6:30 p.m. weekdays
1:00 p.m. — 4:00 p.m. Saturday
Schedule a Session

What to expect from a Reiki session with me:
Prior to a treatment I allow 10-15 minutes for you to share whatever you care to about the issues or conditions that brought you to me.
Based on this conversation, we establish an intention or focus for the session.
You are situated comfortably upon a treatment table.
I say a brief affirmative prayer restating your intention.
During the treatment, I will lightly touch your body (or work above it, if you prefer) using a progression of specific hand positions, which are indicated to me by cues from your body.
Following the treatment, you will sit for a few minutes and have the opportunity to ask questions or share anything you care to about your experience.
I will share my observations and any insights I may have received.
You may feel energized and ready to go about the rest of your day with renewed enthusiasm, or your body may ask for rest. I suggest you honor whatever your body indicates it needs.
I provide you with information for self-care following the treatment.
Results reported by my clients include:
Deep relaxation
Relief from insomnia
More restful sleep
Lowering of blood pressure
Relief from chronic pain
Alleviation of side effects of chemotherapy and radiation
Less bruising and pain after surgery
Lifting of anxiety, panic, and depression
Release of past trauma without reliving the event
Greater sense of self
Increased feeling of well-being
Enhanced ability to live joyfully
I am a member of the International Association of Reiki Professionals (IARP), and I adhere to its Standards of Practice and Code of Ethics.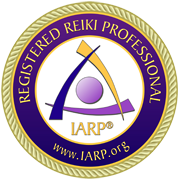 Schedule a Session