For Reiki Master Karin Cross, family Reiki grows as her family grows. Her son Thomas was one when Karin received her Levels I & II Reiki training and began giving him Reiki as she cuddled him or sometimes beamed Reiki to him in his crib. This became a daily practice as she realized how quickly Reiki soothed Thomas when he was sick, hurt, or upset. By the time he was three, he was asking for "Reiki hands" and would place her hands on his body wherever Reiki was needed.
Karin shares her family's story:
Thomas was six when I completed my Master training in 2013. "Will you teach me?" he asked, ecstatic with the realization his mother could now teach Reiki. How perfect to have my son as my first student!

The teacher in me loved planning fun and colorful lessons, intending the lessons be as appealing as reading a good children's book. Short sessions over a period of several weeks each included an introduction to an exercise, 10-15 minutes of practice, and then sharing, which might continue for 30 minutes as Thomas expressed his amazement at what he had experienced. He asked questions and couldn't wait to learn more. He learned to feel energy and to see energy. He learned his lineage, the Gokai (The Five Precepts), how the chakras function, how to meditate, and how to give himself Reiki.  I have found that children learn these arts much more quickly than adults. They are not so caught up in the material world, and they don't second-guess their experiences as we adults often do.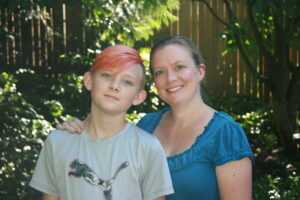 Thomas is 10 now; his sisters Adamae and Aquila are six and one. Thomas practices Reiki with me regularly and often participates in treatments I give other family members. His treatments are effortless and pure, and the positive feedback he receives builds his confidence. Adamae is ready to become a practitioner, and Aquila happily embraces Reiki. We practice Reiki during a weekly family meditation, and before we step out of the house each day, we recite the Gokai to center ourselves and establish our intentions for entering the outside world. This also releases any stress that may have accumulated from trying to get out of the house on time. We take turns leading, and my children greet this practice willingly.
I don't force, plead with or bribe my kids to participate in Reiki. I simply invite them to join me and make myself available to assist them with their own explorations. Although Thomas doesn't always want Reiki when he is hurting and sometimes declines my offer, I believe I have passed on to my children a powerful tool that will support them as they move through adolescence and into adulthood, and throughout their entire lives.
Please leave a comment. You are also welcome to contact Karin directly through email: gandee.cross@gmail.com
©2017 Marianne Streich, Reiki for Living, All Rights Reserved. For re-posting permission, contact Marianne.
Marianne is a Seattle-Area Reiki teacher and practitioner. She is the author of Reiki, A Guide for the Practice of Levels I and II and a former editor, contributor, and columnist for Reiki News Magazine (2004-2010). See her current class schedule.