Knowing Reiki would support his chosen work in myriad ways, Jonathan Hanneman completed Reiki Master Training prior to entering seminary. At Standing Rock, his Reiki skills provided an opportunity to be of service and a means of giving comfort in a traumatic situation.
Jonathan's story:
Thanksgiving was less than a week away, and I was tucked into the back of a cramped minivan, riding to Standing Rock with six of my fellow students from the Seminary of the Southwest in Austin, Texas. We arrived at the low, grassy hills of Cannon Ball, North Dakota, well after dark, the icy wind creeping through our clothes. Fr. John Floberg had invited our group to stay in the warmth of St. James Episcopal Church.
After joining their service Sunday morning, we drove the 10 miles north to the Water Protectors' camp to explore opportunities to assist and to attend a required session on nonviolent activism. The camp was markedly peaceful, with people of every color, spirituality, and nationality working together to care for one another and protect the Sioux's main water supply.
As soon as we arrived back at the church that evening, I fell fast asleep, still exhausted from our overnight drive. Around 10:00 p.m. I woke up to discover a note saying my classmates had returned to the camp. An incident was developing near the police barricade at the highway bridge about a half mile north of the main encampment. The police, wearing military armor and standing in a line behind at least two rolls of razor wire, had fired on the Water Protectors with gas canisters, rubber and beanbag bullets, concussion grenades, and fire hoses—in 20° weather. Each of my friends breathed the burning chemicals. Several endured the barrage of icy water while trying to help other people on the bridge. One, a nurse, ended up with a large chemical burn on her leg. Though my classmates were at the scene for only two hours, the assault continued for a full ten.
Tension was still high the next morning, but at least the violence had ceased by the time we returned to the site. We prayed near the bridge for several hours before the tribal elders told everyone to return to the camp.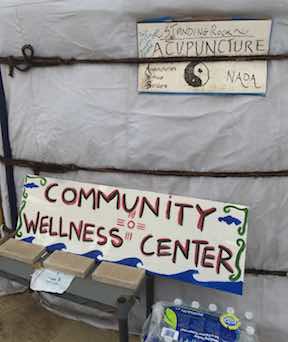 My friends had shown their bravery—and had the burns and bruises to prove it. But I had missed the previous night's events. We were heading back to Austin the next morning. As we walked back to the camp, I wondered if there was anything, I could still do at this point, apart from being a witness to the aftermath and continuing threats.
Wandering through camp I suddenly stumbled upon a cluster of wellness tents, a small group of shelters where Water Protectors could see trained medics and holistic practitioners. Now I knew what to do!
I walked into a large yurt and offered my skills in Reiki. Working alongside a variety of alternative medicine and energy practitioners all afternoon, I served people who had experienced the trauma of the previous night. Since tables were at a premium, I treated recipients either in chairs or on floor mats. Hours flew by. Reiki blends with meditation for me, so despite the odd angles and a good bit of work while kneeling, I left more refreshed that evening than when I had arrived.
As Reiki practitioners, we are often deeply affected by suffering in our world. Few of us can actually travel to the site of a conflict or natural disaster, as Jonathan did; however, we always have the option of sending Reiki distantly. Watch for a future post on how this can be done effectively, no matter the circumstance.
©2017 Marianne Streich, Reiki for Living, All Rights Reserved. For re-posting permission, contact Marianne.
Marianne is a Seattle-Area Reiki teacher and practitioner. She is the author of Reiki, A Guide for the Practice of Levels I and II and a former editor, contributor, and columnist for Reiki News Magazine (2004-2010). See her current class schedule.